GHAZIABAD: A group of
YouTubers
shooting a short film on the Hindon elevated road were allegedly robbed by miscreants in the early hours of Thursday.
Police said the robbers, who were riding two bikes, posed as cops and overtook and waved down the YouTubers' car before looting them. One of them brandished a gun, overpowered the youths and took away a gold chain from one of the victims and a wallet with cash from another. Before fleeing, the robbers took the keys of the car with them.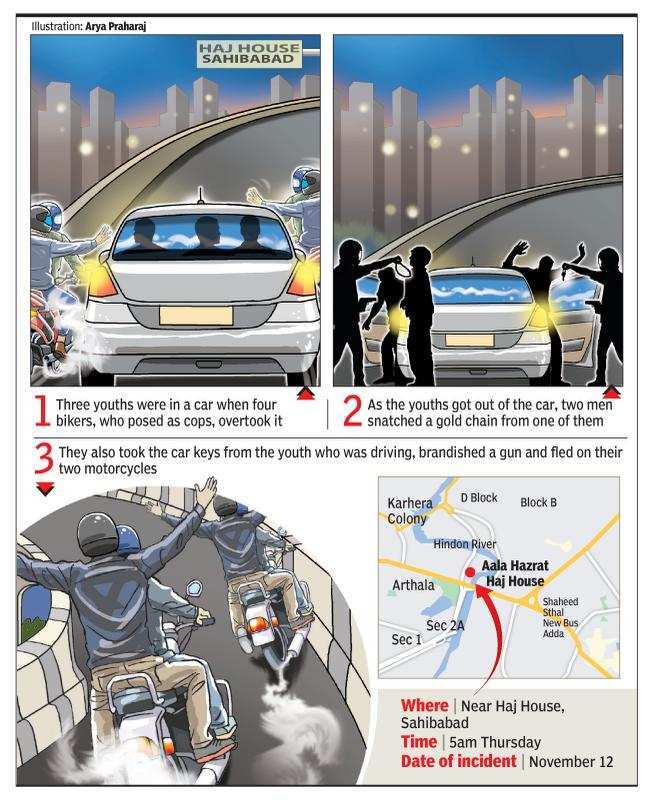 The victims — Sharad Khanna (24), a resident of Niho Scottish in Indirapuram, Shourya Chopra (23), a resident of Vijaya Apartment in Indirapuram, and Priyansh Gupta, an Indirapuram resident — told police that the crime took place near Haj House in Sahibabad area of Ghaziabad.
Pradeep Khanna, Sharad's father, said that the three friends had gone to shoot a video in the area around 4.30am on Thursday. "Around 5am, when they were trying to capture the empty elevated road near the rotary roundabout, four people on two bikes overtook their car. They posed as cops. My son was driving the car while the other two were shooting with a camera and a mobile phone. My son stopped the car, opened the door and all of them deboarded. After this, two of the miscreants came towards them while two others kept sitting on their bikes," he said.
"The miscreants snatched a gold chain from one of Sharad's friends and a wallet from another. They then brandished a pistol at my son and took away the car key," Pradeep said. Sharad had called him to narrate the entire ordeal.
The friends called the cops and a team arrived at the spot. Sharad described the accused to the cops — all of them about 6 feet tall, wearing blue jackets, brown leather shoes and clothes resembling police uniform.
While the complaint was lodged on Thursday morning, police took more than 12 hours to register an FIR, finally lodging one at 10.36pm.
Vishnu Koushik, SHO (Sahibabad), said unknown persons have been booked under IPC Section 392 (punishment for robbery). "We have formed two teams to nab them. We are also scanning the CCTV footage of the area," he added.