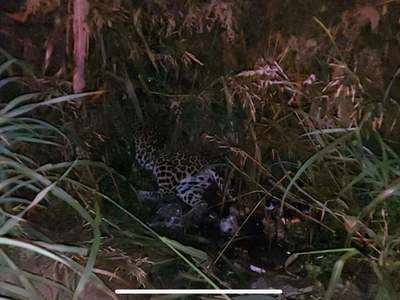 Screengrab from video of injured leopard after accident
MUMBAI: A pregnant leopard crossing the Mumbai-Ahmedabad highway at Mira Road on Saturday night was knocked down by an unidentified vehicle. The big cat died during treatment three hours later.
An eyewitness, identified as only Bhola, said he was driving on the highway when he saw the leopard crossing the road at Hotel Delhi Darbar in Kashimira, around 11.30 pm. An SUV hit the leopard, and the injured animal limped back into the bushes, Bhola added.
Eyewitnesses alerted the police chowky at Kashimira, which, in turn, informed the Sanjay Gandhi National Park (SGNP) officers. An SGNP team, along with the wildlife rescue ambulance, reached the spot and began searching for the leopard in the dark. They found the leopard lying in the bushes and took her to SGNP in an ambulance, but she succumbed to her injuries at 2.30am.
An autopsy conducted by a team of veterinarians in SGNP on Sunday afternoon stated the cause of death as a strong mechanical impact (probably vehicular origin) causing multiple hemorrhages, multiple fractures and muscular damage, resulting in hypovolemia and respiratory arrest.
The leopardess was carrying three foetuses.
Forest officials said that they will examine the CCTV footage at the accident spot to track down the vehicle.
Thane's Ghodbunder Road and Western Express Highway are active wildlife crossing spots after sunset, and there are signboards cautioning motorists to go slow at specific crossings. According to animal activists, on average one leopard is killed by speeding vehicles on the highway at Vasai and Thane, but the errant drivers are never arrested.
FacebookTwitterLinkedinEMail