AHMEDABAD: Small finance banks have seen the highest credit growth rate in Gujarat on the back of robust credit uptake by underbanked consumers following a successful kharif season. Branch expansion and rapid improvement in sentiment further supported these banks' credit growth during the quarter ended September 2020.
Small finance banks' outstanding advances across the state surged to Rs 7,061crore in the September quarter from Rs 5,474 crore in the same period last fiscal. This is an increase of 29% or Rs 1,587 crore on yearon-year (Y-o-Y) basis, states a recent report released by the State-Level Bankers' Committee (SLBC). Compared to the preceding quarter, the growth rate was 12%.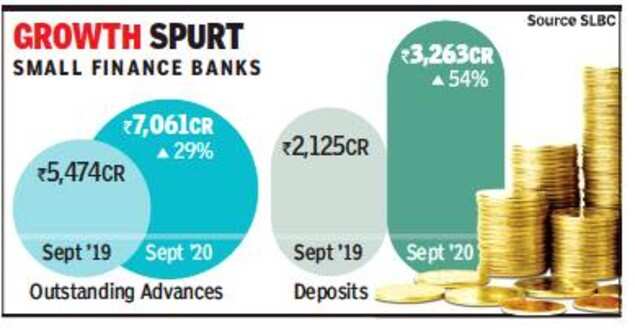 Against this, credit growth of private sector banks was 10% during the period under review, while that of co-operative banks was 5% on Y-o-Y basis. Nationalized banks saw negative growth of less than one percent and State Bank Group's advances rose by 3%.
Overall, total outstanding advances by all the banks increased by about 5% or Rs 31,214 crore to Rs 6.4 lakh crore during the second quarter of fiscal 2020-21.
"A sharp focus on the underbanked segment, credit uptake picking up from this segment due to a strong and successful kharif season and rapid restoration of confidence and sentiments, support from the RBI (Reserve Bank of India) on branch expansion and robust regulatory framework have contributed to the performance of the small finance banks," said Soham Shukla, chief operating officer, rural banking, Fincare Small Finance Bank.
"Also, small finance banks are focussed on retail lending as opposed to corporate lending.
The confidence and project investments of corporates still appear to be a few paces behind. As a whole, we are confident that small finance banks are likely to witness stellar growth over the next 3-5 years," he added.
Deposits with small finance banks in Gujarat also increased by 54% to Rs 3,263 crore in the September quarter from Rs 2,125 in the corresponding quarter of the previous fiscal.
Small finance banks also added 60 new branches in the second quarter of the current fiscal, taking the total number to 342 against 282 in the corresponding period of the previous fiscal.