THIRUVANANTHAPURAM: A report by the
Neyyattinkara
tahasildar submitted to the district collector has stated that the
disputed land
, where a couple died after accidentally immolating themselves while attempting to stop an
eviction drive
, belonged to their
neighbour
.
The report said that it was not a "poramboke" land and that the neighbour of the
dead couple
has been paying tax for it for the past several years.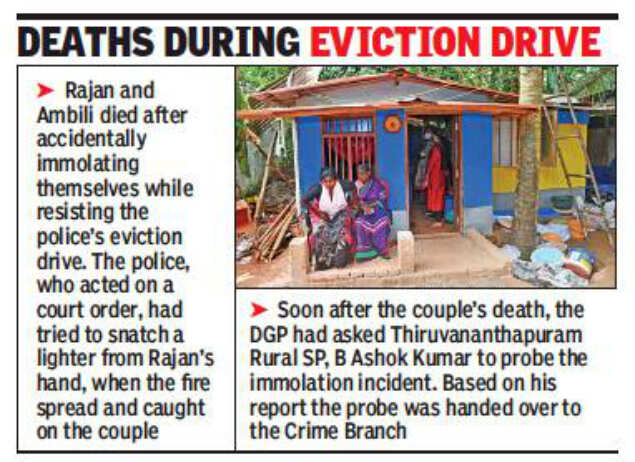 According to the report, a couple of transactions were earlier made before the land ended up in the hands of Vasantha, the neighbour. The revenue rules that governed the transaction of the land then, will have to be examined, said sources.
The disputed land extending to four cents was purchased by Vasantha in 2007, along with the eight cents where she is presently residing.
The report is likely to strengthen Vasantha's claim that she is the rightful owner of the land. The children of Rajan and Ambili, the dead couple, have been demanding that the government should take over the land and hand it over to them. Earlier, when businessman Boby Chemmannur had purchased the land from Vasantha and handed it over to the children, they had declined the offer saying that they are the rightful owners of the land and the government should give it to them.
Rajan and Ambili died after accidentally immolating themselves while resisting the police's eviction drive. The police, who acted on a court order, had tried to snatch a lighter from Rajan's hand, when the fire spread and caught on the couple.
The duo succumbed to the burn injuries while undergoing treatment at the Medical College Hospital, Thiruvananthapuram.
The cabinet had last week decided to provide land and house to the children of the couple in addition to Rs 10 lakh from the chief minister's distress relief fund.